Conch Shell Class, 2004 Sacred Sound Retreat, Taos,NM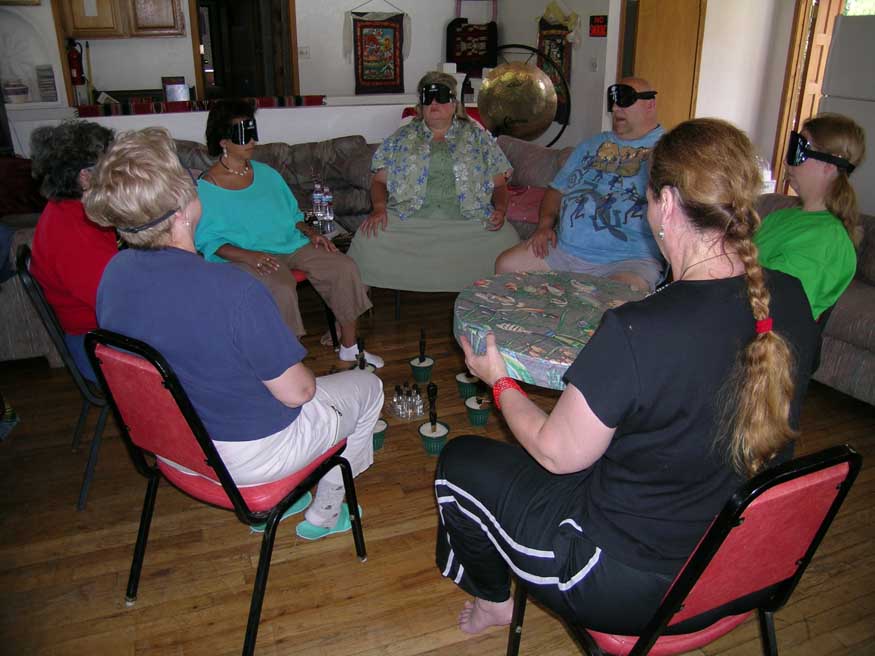 Two Horses's Ocean Drum journey class, Taos, Nm 2004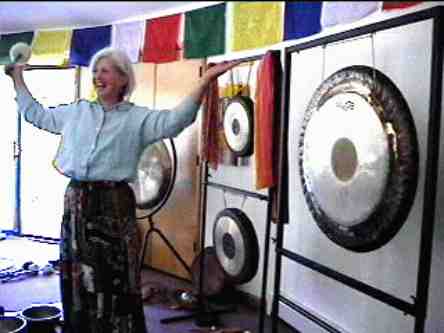 Rae at the symphonic gong, 3 day Sacred Sound Retreat in 1999,North Carolina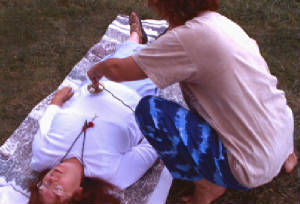 Students practice Tingsha diagnostic techniques at the 2002 Sacred Sound Retreat in New Mexico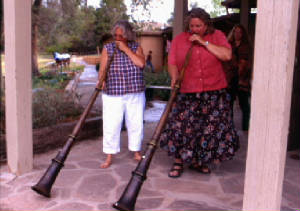 Sandra and Lynette blowing the 350 yr. old Tibetan Long Horns at the 2002 Sacred Sound Retreat at Ghost Ranch in New Mexico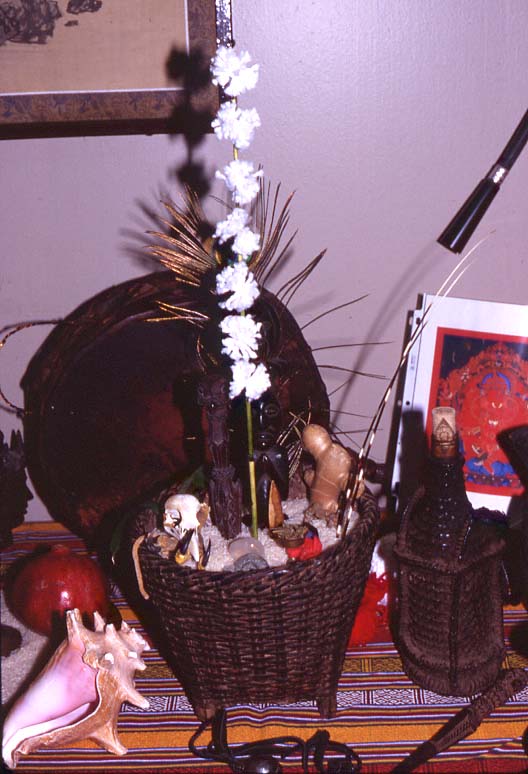 Himalayan Shaman's Altar, 2003 Retreat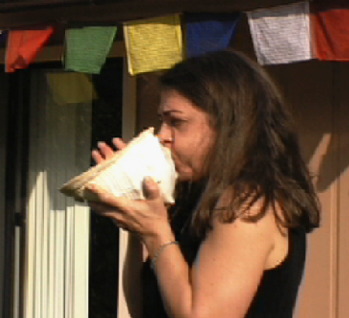 Conch Shell class at the 2001 Sacred Sound Retreat in North Carolina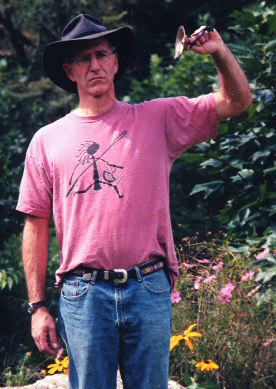 Bonpo Shang class in North Carolina, 2001 Retreat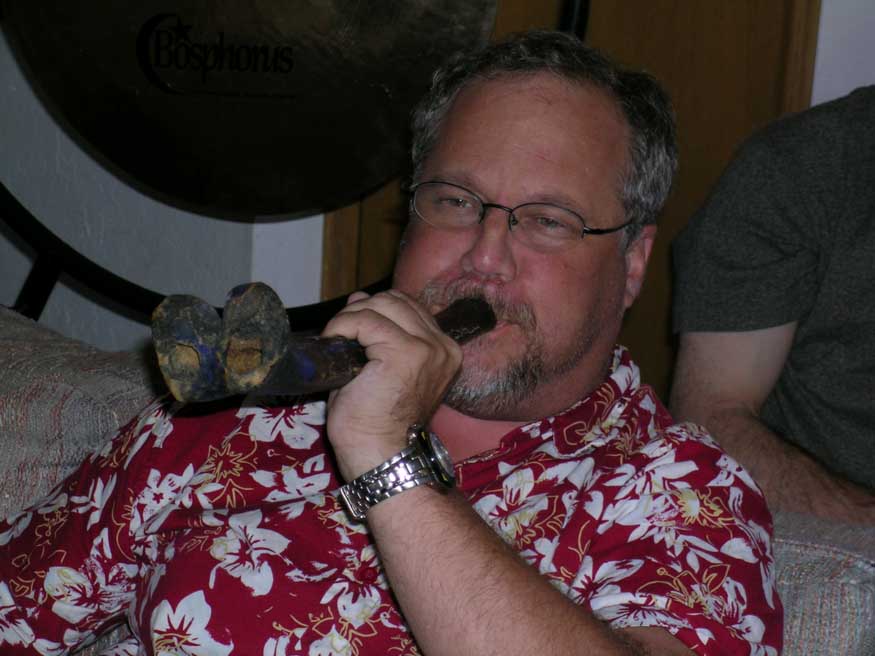 Jeff blows the 'Kangling', the human Femur trumpet from Tibet, Taos,NM 2004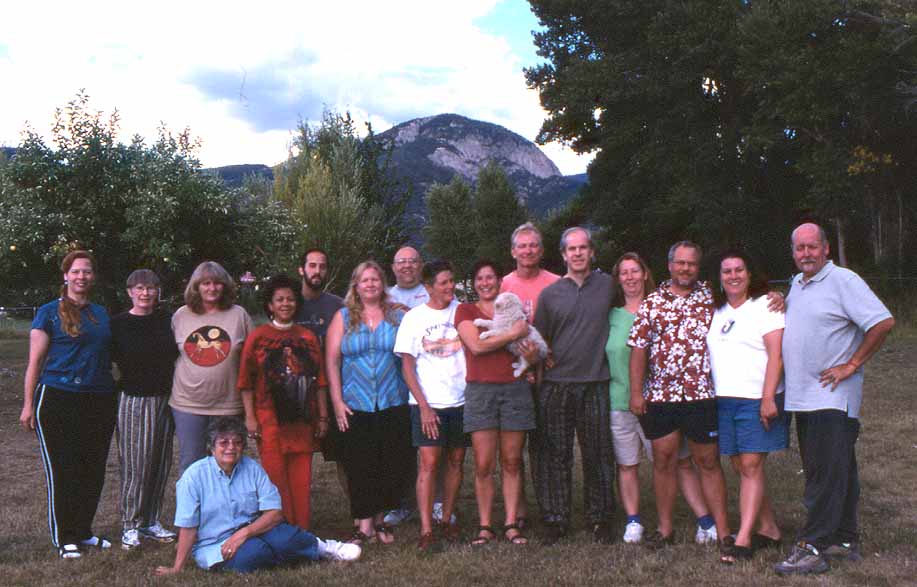 2004 Sacred Sound Retreat students, Taos, NM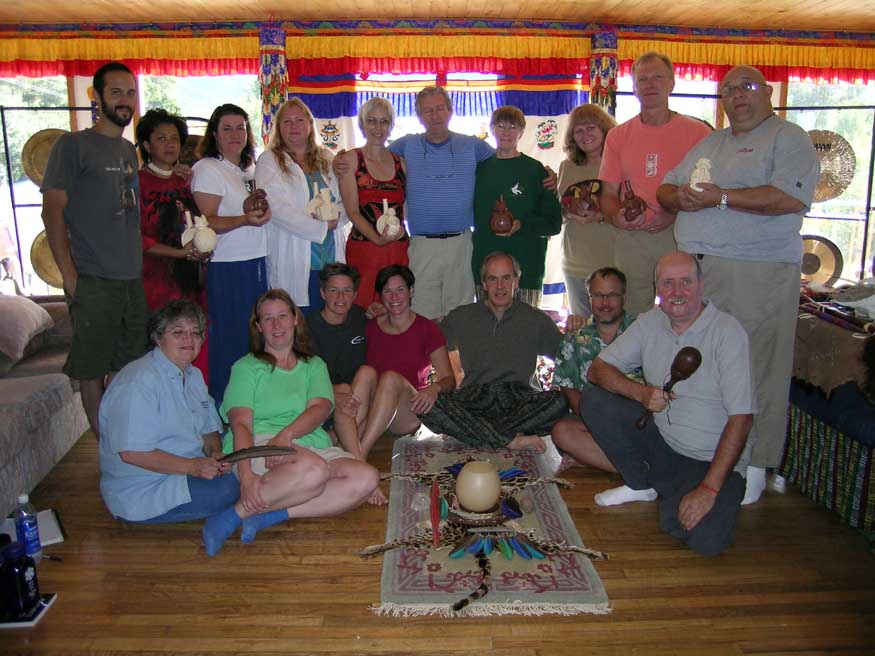 Daniel Statnekov, joined our Peruvian Shamanic Whistling Vessel program in Taos, NM 2004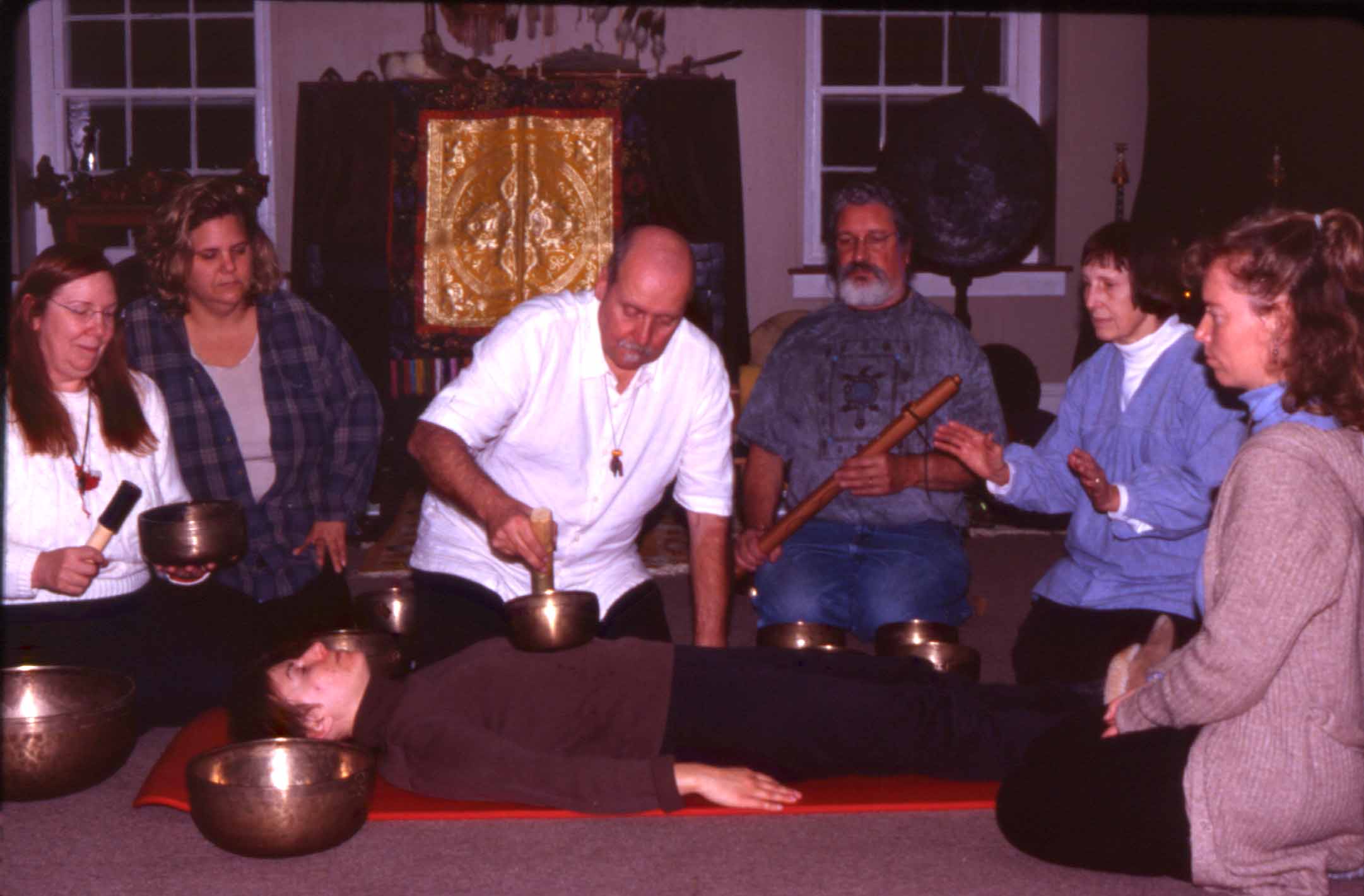 2003 Sacred Sound Winter 3 Day Retreat. Mitch Nur demonstrates Singing Bowl therapy with some of the students.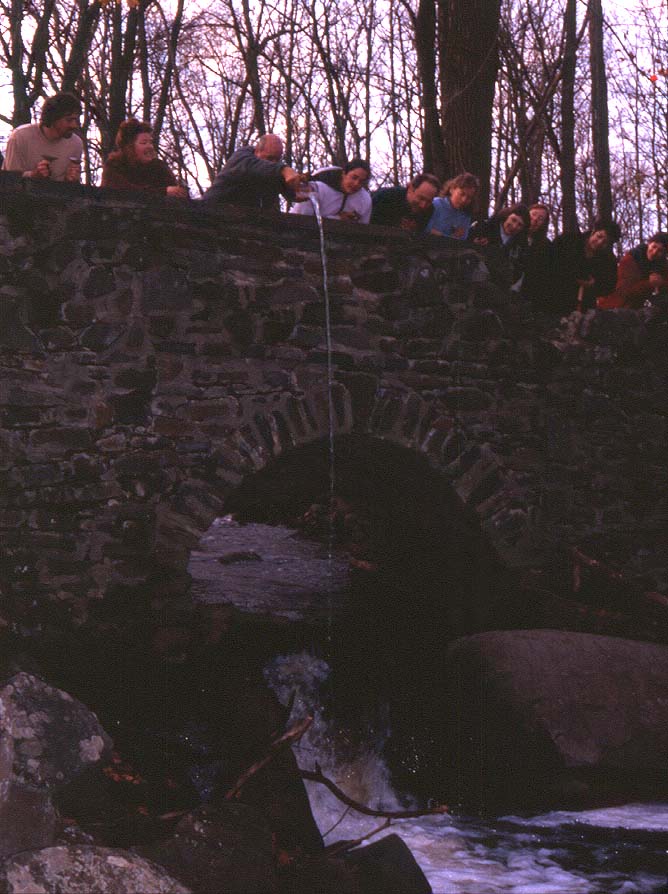 2003 Sacred Sound Retreat. Water offering after the Bonpo Shang Class. This follows along with the teachings of Masaru Emoto
Sacred Sound Retreat 2001 in the great Smoky Mountains of North Carolina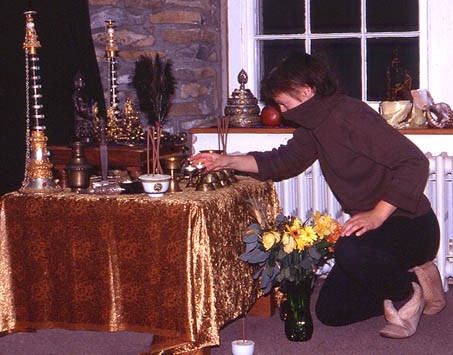 The 2003 Sacred Sound Retreat featured Altars from the various spiritual traditions of the world. Here, Beth attends to a traditional Buddhist Altar, the traditional way.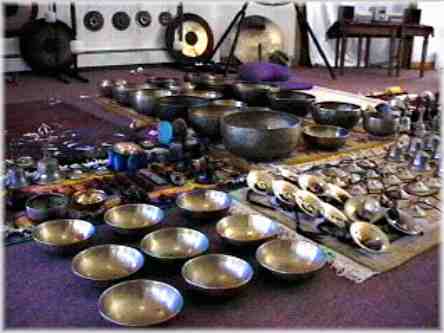 Himalayan Singing Bowls, Tibetan Singing Bells, Bonpo Shangs and more, 3 Day Retreat 1999, North Carolina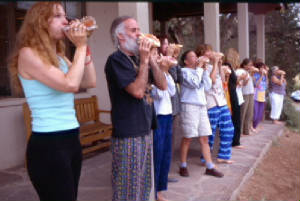 Conch Shell class at the 2002 Sacred Sound Retreat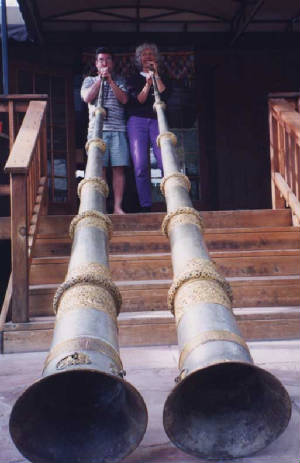 Students blow "Longchens" ( 12 foot Tibetan Longhorns ) at the 1998 Sacred Sound Retreat, Sedona, AZ.



Gong Healing Class, Taos, NM 2004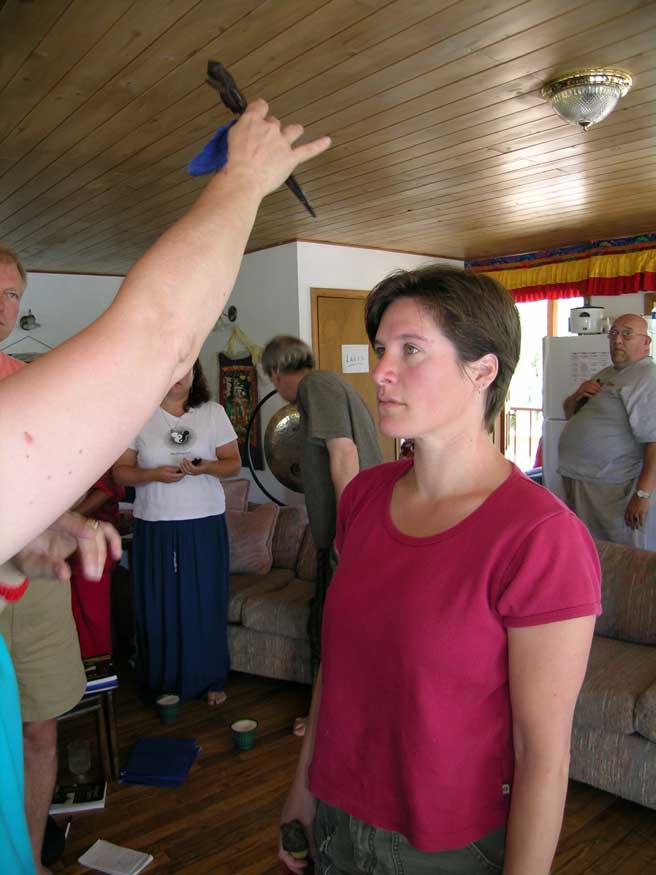 Phurba diagnostic class, Taos,NM 2004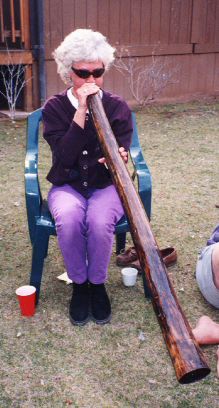 Didgeridoo Class,Sacred Sound Retreat, Sedona Arizona 1998
Two Horses Running preps the students prior to the class with the Peruvian Shamanic Whistling Vessels, Boulder,CO 1997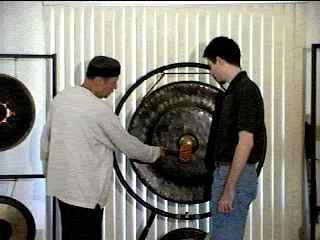 Mitch Nur at the Gong Rack with Mike, Sacred Sound Retreat 2000 in North Carolina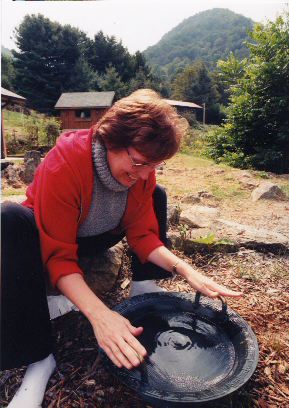 Chinese Spouting Bowl, 2001 Sacred Sound Retreat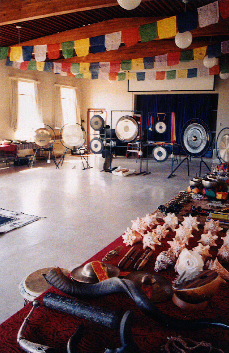 2002 Sacred Sound Retreat at Ghost Ranch in New Mexico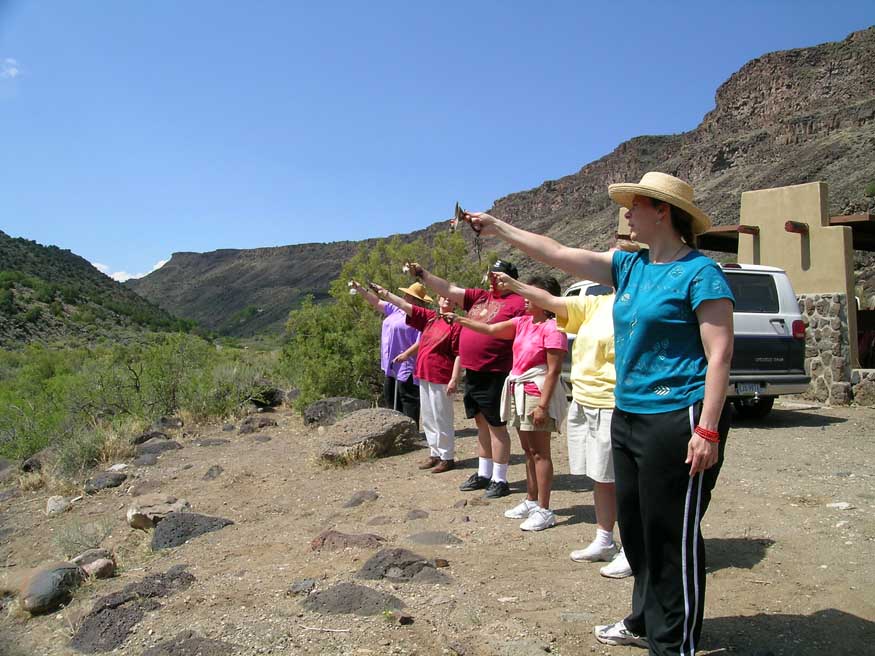 Two Horses's Bonpo Shang class, down in the Rio Grande Gorge, 2004 Sacred Sound Retreat